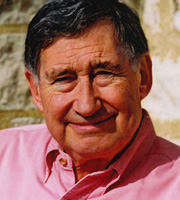 I am very pleased to present a brief question and answer session with David Nobbs, a master of the humorous novel, one of the UK's finest novelists working in that vein.
You have worked with many comedy greats over the years; Have you a particular comedy hero?
Leonard Rossiter, who was inspired both physically and verbally, hardly ever put a foot wrong, and combined subtlety and speed in a way that seemed barely possible, but only by a short head from Les Dawson, whose love of words, talent for physical comedy, and willingness to face challenges set him apart from any of the other comedians with whom I worked.
In a similar vein; Which actors do you feel have come closest to portraying your characters as you saw them?
All the regulars in The Fall and Rise of Reginald Perrin and A Bit Of A Do. Nothing else came near, and it's no wonder they were my most successful series.
Which of your novels are you the most proud of?

Funniest book I have ever read!

The Fall and Rise of Reginald Perrin, Second From Last In The Sack Race, Going Gently, and The Fall and Rise of Gordon Coppinger.

(No arguments from this quarter. DR)
Some of the episodes I have most enjoyed in your work has been some non-comic moments such as the death of Ponsonby, Percy Spraggs and the returning ghost of Neville Badger. These are handled so well, did you enjoy writing these episodes as much as the comic ones?
Yes, on the whole I did. Sometimes I think I am just a bit too anxious to make people laugh, and it's just as important to make them feel. In fact, if they don't feel for a character they can only laugh at them, not with them.
It seems to me there has been a change from the earlier comic novels to novels with a comic content. Do you see it the same way or do you not care for such labels?
I don't like the label 'comic novels'. I prefer the label 'humorous novels'. I write novels that have a lot of comedy in them, but they have serious elements too. I think perhaps I have deepened the serious content, but I wouldn't ever contemplate a novel with no humour, though I would rather like to try one, just once, that is utterly comic. I suppose the book where I got the mixture absolutely right was the first Reggie Perrin book. A deeply serious theme exploration of a man in crisis, but told just about entirely through comedy.
A new novel is on the way; Can you tell us a little about it?
I don't think I can answer this question as the book is now out and you have reviewed it.

(See post below for my review. DR)
And what of the future? What plans have you?
At the moment, and partly due to the difficulty of getting things accepted on television and even on radio, my mind is much taken up with my next book. There are two possible subjects. I will explore them in the next month and make my decision between them after Christmas. All I am prepared to say at this stage is that that one is a portrait of people in a small town and the other is written in the first person as a woman in her early forties.
My thanks to David for his time in answering my questions, questions which no doubt he has been bombarded with many times before. Check his books out...you will not be disappointed.