In addition to Joseph Svec's Sherlock Holmes books, He has previously written and published a book of rhymed metered story poems, Mystical Journeys. He has also written a Guide to Toy Castles and Knights from Around the World. It covers 60 years of toy castle production from 10 different countries, covering over 100 different toy castles. It has been sold to readers in 16 different countries. He

has given two presentations to the Amador county Holmes Hounds Sherlockian Society, one on Arthur Conan Doyle's second most popular character, Professor George Edward Challenger, and one on Captain Nemo. Interestingly enough, Sherlock Holmes crosses paths with both of them on numerous occasions.

Another interest of his is creating 54mm dioramas. He has created dioramas on many different subjects including Robin Hood, the Battle of Grunwald, in 1410, the classical music piece A Night on Bald Mountain, H. G. Wells' War of the Worlds, and Jules Verne's 20,000 Leagues Under the Sea.

He has one Sherlock book out right now, Sherlock Holmes and the Adventure of the Grinning Cat. The sequel, Sherlock Holmes in the Nautilus Adventure, just went to the MX printer. They are books 1 & 2 in his Sherlock Holmes and the Missing Authors Trilogy.

The first book as you can tell is a Sherlock Holmes, Alice in Wonderland crossover, as the Cheshire Cat, White Rabbit, and the Mad Hatter turn up at 221-B Baker street to enlist the help of Sherlock to locate Alice who is missing from Wonderland, and Lewis Carroll, who is also not to be found. Between a Unicorn, the Jabberwocky, Wonderland humor and word play as well as logic puzzles, H. G. Wells and his time machine, this is a most strange and curious adventure.

The second book is

Sherlock Holmes in the Nautilus Adventure, featuring Captain Nemo!
Your love of adventure is readily apparent from your interests. When did that spill over into your writing?
I have always enjoyed writing and medieval fantasy, however, until recently, most of my writing has been in rhymed, metered verse. I very much enjoy writing story poems.



Would you say that there are very few books published today which approach the level of enjoyment provided by say, Jules Verne for instance?
No, there are still excellent books being written today. The Chronicles of the Imaginarium Geographica, by James Owen, is an outstanding series. Jules Verne, H. G. Wells, and Arthur Conan Doyle are all characters in that series, which makes it even more interesting. Many of the pastiches being written today are excellent stories.



When did you first formulate the idea to write a Sherlock Holmes pastiche?
Sherlock Holmes is considered the ultimate proponent of logic and rational thought. The idea came to mind, how would he react to the ultimate un-logical character, the Cheshire Cat? The book developed from that idea.



Sherlock Holmes and the Grinning Cat is quite a crossover. Were you apprehensive as to how it would be received by Holmes fans?
I really did not have any apprehension. Readers like Sherlock Holmes. They also like Alice in Wonderland, as well as H.G.Wells and time travel, so this book should have a very wide audience. Initial comments have been that the Wonderland characters are very well portrayed, and that Sherlock is at the top of his game.
Once I started writing new Sherlock Holmes stories , yes. Again, I thought it would make a great combination. Take one of my favorite authors and characters and put him in a story with the world's greatest detective.



Your first two Holmes adventures are part of the Missing Authors trilogy. Who will be next?
The third book is titled Sherlock Holmes and Round Table Adventure. The missing author is Alfred Lord Tennyson, who wrote The Idylls of the King, a epic series of poems about King Arthur and the Knights of the Round Table. He was the Poet Laureate of England.



Your guide to Toy Castles and Knights from around the world sounds fascinating. A life-long love? How many toy castles do you own up to owning?
Yes, toy castles have been an interest of mine since childhood. At one time just after completing that book, I owned over 100 toy castles, but now my toy castle collection is down to somewhere around 65. I have a hobby room where I have at least 15 of them set up in full dioramas.
After the completion of the Missing Authors trilogy, what then for you?
I am thinking of a Sherlock Holmes and the Missing Scientist trilogy, as well as Unicorn novel. I have over 150 books on the subject of Unicorns, so I have great deal of source material. I also think a Sherlock Holmes pastiche that involves tea would be fun. I am an avid tea enthusiast, and my tea chest includes over 200 different flavor/varieties of tea.



If you were bundling up five of the very best adventure stories to take to a desert island, which five would you choose?
That is a tough one. I tend to read series, not just individual books.
My three absolute favorite series are The lord of the Rings, the Chronicles of Narnia, and the previously mentioned, Chronicles of the Imaginarium Geographica Of course I would want to bring Jules Verne's 20,000 Leagues Under the Sea and Journey to the Center of the Earth.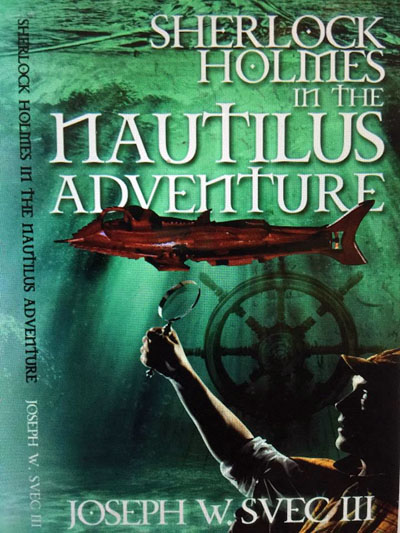 Can we expect to see a Sherlock Holmes diorama from you?
That is a fun thought. Sherlock Holmes stories tend to be on a smaller personal scale, while dioramas tend to be on a grand epic scale. It could be done though and would be a fun project. I will add that to,my list of future plans I must say here that t
he combination of Sherlock Holmes and Alice in Wonderland was a fun writing project. My wife is a great part of all of my writing, providing input, inspiration and ideas. She is truly my muse.
Thanks Jospeh! Visit Joseph's website HERE